Welcome to Bujinkan Iyashi Dōjō 武神館

癒し

道場
Home to the practice of authentic
Bujinkan Budō Taijutsu 武神館 武道 体術 (Ninjutsu)
for over 25 years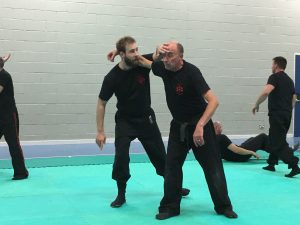 Bujinkan Iyashi Dōjō 武神館癒し道場 (formerly Hartlepool Bujinkan Dōjō) has been home to the practice of authentic Bujinkan Budō Taijutsu 武神館 武道 体術 (Ninjutsu) for over 25 years. Ninjutsu is an ancient Japanese warrior art that was developed and tested on the battlefield and which also contains a unique Japanese physical medicine system.
Bujinkan Iyashi Dōjō's武神館癒し道場 instructors are certified with the Bujinkan Hombu 武神館 本部 道場 (headquarters) in Japan.
Please browse the website to learn more about the dōjō and our training schedule. If you would like more information about the dōjō and how to become a member, or you would like to pay us a visit, please contact us.
"The first priority of the Ninja is to win without fighting"
-Masaaki Hatsumi-