Instructors
Shidōshi Menkyo Keith Watkin (Godan – 5th Dan)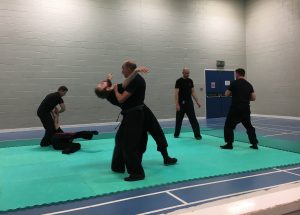 Keith is a retired plumber and has been practising Ninjutsu for over 35 years. Keith has a wealth of experience in the medical side to Ninjutsu, known as Amatsu. Keith has also trained directly under Soke Hatsumi whilst following him to various Tai Kai's (training conventions) around the world.
Keith is officially Godan, however, his skill and expertise are actually much higher than this, it is only that he is not able to train with Soke Hatsumi in Japan and receive further grading that prevents his progression in official rank. Bujinkan Iyashi Dōjō is extremely lucky to have such an experienced teacher within its ranks.
Keith has travelled to Japan to train at the Hombu as well as to many Taikai's around Europe.
Keith passed his Sakki test (Godan – 5th Dan test) with Soke Hatsumi in Japan over 30 years ago.
Shidōshi Menkyo and Dōjō-chô Neil Thomas (Godan – 5th Dan)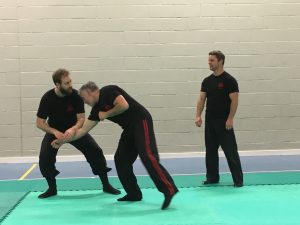 Neil is a Doctor of Chiropractic, Medical Acupuncturist and Medical Educator and Medical Sonographer and has been a member of the Bujinkan since 1999. Neil has been teaching consistently for around 10 years and started his teaching journey when he left for University to study Chiropractic in 2006. During this time Neil mainly instructed chiropractic students to help improve their spacial awareness and kinaesthetic sensitivity.
As a chiropractor, Neil has a keen interest in musculoskeletal medicine and joint mechanics and this is reflected in his training where he teaches the application of this knowledge in a Martial context.
Neil has travelled to Japan to train at the Hombu and also to various Taikai's around Europe and has trained with Sensei's Toshiro Nagato, Yukio Noguchi, Tetsuji Ishizuka and Robert Renner.
Neil passed his Sakki test (Godan – 5th Dan test) with Dai Shihan Toshiro Nagato.
Keith and Neil are both licensed Shidōshi-Kai members of the Bujinkan Hombu (headquarters) in Japan. This means that they are licensed to teach Bujinkan Budō Taijutsu and can officially rank students and award certificates direct from the Hombu.
Assistant Instructor
Alex Gatenby (Yondan – 4th Dan)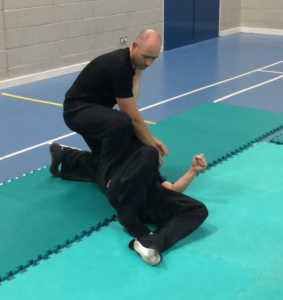 Alex is a graphic designer and has been practising Ninjutsu for around 12 years.
Alex assists in teaching and will occasionally take the class when Keith and Neil are not available.
"You are not just fighting one opponent, you are fighting the unknown"
-Masaaki Hatsumi-